National Debt was formed in 2002 by Ronnie Smith & Michael Messer.  Gigging regularly, the duo soon attracted attention particularly in London & in the South East.  Band members Chris Clarke (Double Bass) & Cheyne Pride (Harmony Vocals) joined them in 2005 to become National Debt, the band! 

More gigs led to the first album, "From The Horse's Mouth" being released in 2007.  Recorded @ Reservoir Studios in Crouch End, the album consisted of 11 tracks with 5 original songs from Smith.  It was enthusiastically received by critics & played by Mark Lamaar on BBC Radio 2, who described it as "a great album".  Shortly after its release in 2008, Clarke left to be replaced by Jess Drummond (Acoustic Bass).

In 2012 Smith & Messer, were joined by Dominic Geraghty (Double Bass) to record their second album @ Smith's house using a Zoom H4 digital recorder.  They were augmented by Ed Genis (Guitar) & Fiona McCluskey (Harmony Vocals)  Smith recalls, "We wanted to record in a relaxed & intimate setting, using first takes with no overdubs & closer to our live performances, warts & all!"  The album titled "Playtime In The Workhouse" was released under Smith's own name. All songs but one were written by Smith & included a live track recorded in 2011.

In 2015 they were joined by guitarist Chris Müller-Bennet & went back to Reservoir Studios to record an EP containing 5 original songs penned by Smith. This 2016 CD "Wornington Road" contains the title track from Smith's second album which was never released until now. Primarily all acoustic, the current lineup play an original mix of songs fermented over years from their love of blues & folk but with a unique "London" feel.  What the future holds for Smith, Messer, Geraghty & Müller-Bennet is yet to be heard...  watch this space.
Music Maker Review (2012)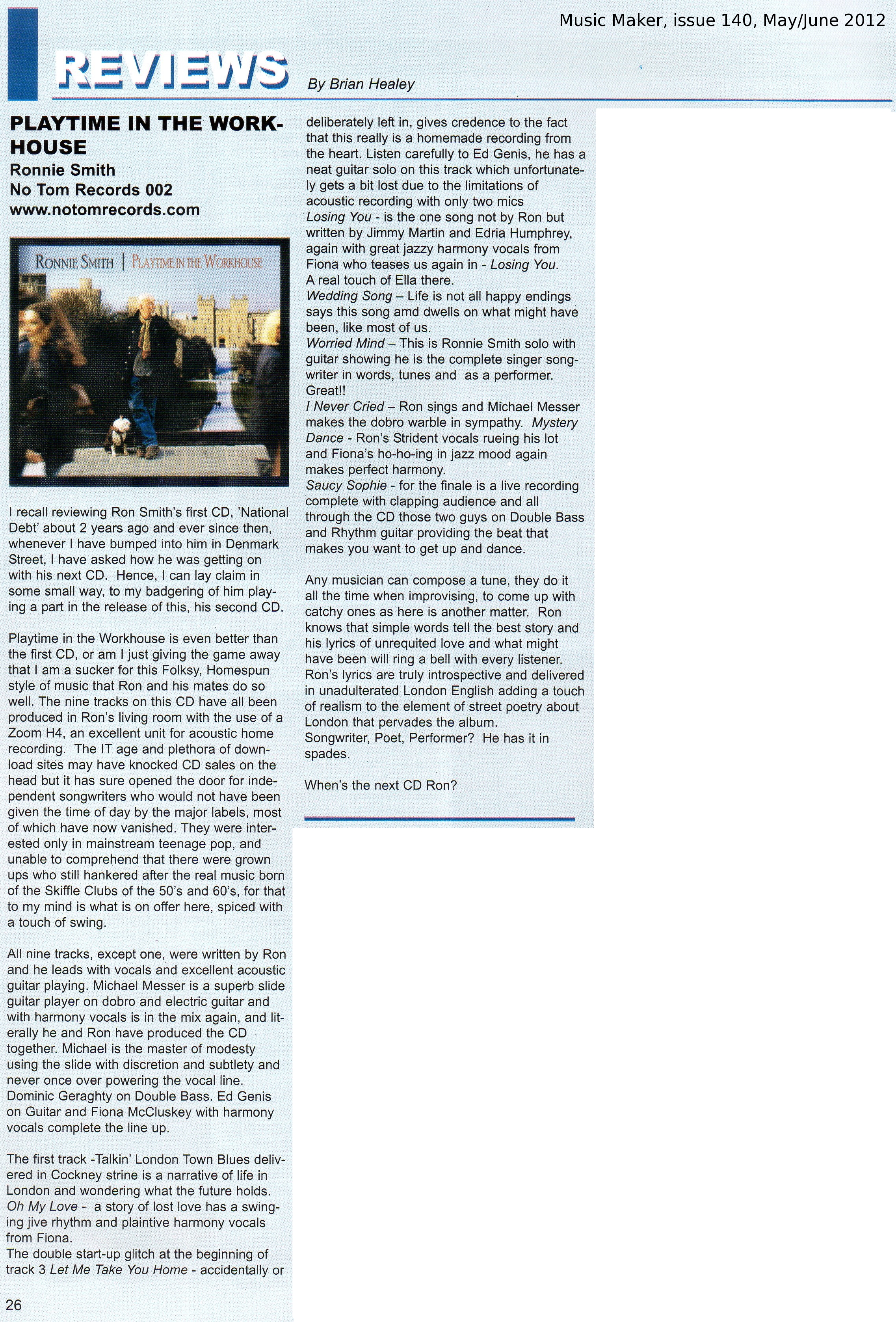 Amazon UK Review (2012)



Rock & Reel Review (2008)
 
Artist:  National Debt
 
Album: From The Horse's Mouth

Rating: 4 Stars
 
Something of a supergroup, if you will, comprising the combined talents of England's hottest dobro picker, Michael Messer, singer-songwriter Ronnie Smith and Rockingbirds bass virtuoso and producer Chris Clarke. National debt deliver here a debut album of assured country blues.

Formed for fun five years ago when Messer's hectic schedule would allow, the  band convened last year in Clarke's north London studio to pull together this set. And while there's a good crop of covers from the likes of the Delmores, the Stanleys and Charlie Poole, Smith's own originals in the same style dominate and truly are a remarkable fit. "Love To Burn" for example, could just as easily dwelt in the collection of Harry Smith.

Smith's vocal at first sounds odd, so much does one expect to hear these songs sung in an American accent. But when you think about it, he's pitched it about right. He is, after all, British and this album benefits from the earthy honesty of his voice.

The honeyed tones of backing singer Cheyne Pride, however. Are only sparingly glimpsed despite the welcome feminine touch they bring to the proceedings. Maybe lay on a duet next time fellas?
 
Gerry Ranson


Net Rhythms Review  (July 2007)

Artist:  National Debt
 
Album: From The Horse's Mouth

Oozlin' Daddy Blues sets the tone for this Rootsy album however, don't ask me what the title means as I have not got a clue.  Charlie's Tale is the first of a trio written by vocalist Ron Smith.  This is top class folk with added value in the form of Messer's guitar.  The second of Smith's trio is Love To Burn and this one is old style Country/Mountain music.
 
Lonely Road is another of Smith's songs and this is brilliantly raw Alt. Country.  No matter how good a song is, and believe me, this is a highlight, Michael Messer always manages to lift it with his guitar fills.  Salvation Blues is Smith's last solo song writing credit and is Americana of a high standard.
 
Backing vocals from Pride and bassist Chris Clarke are top drawer.
 
This is a very good album by very good musicians.

David Blue